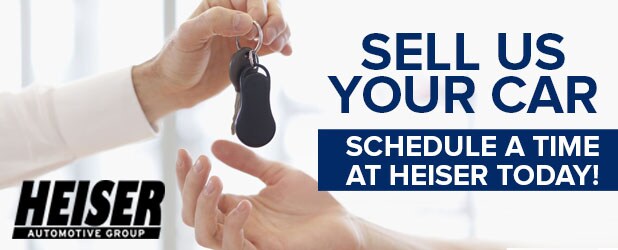 DETERMINE YOUR OFFER
We'll buy your car from you, even if you don't buy ours! Selling or trading your vehicle is as easy as 1-2-3!

    1.    Bring in your car - Remember, Heiser will buy it regardless of year, make, mileage, or condition. Our appraisers will give your vehicle a detailed evaluation. This process can take as little as 30 minutes and will include a test drive, review of its options/features, interior and exterior condition and all modifications and aftermarket additions made. The frame will be inspected, and any flood damage determined. Your vehicle's history report will be pulled. A comparison of the vehicle against current market conditions (including sales trends and auction data) will complete the evaluation.

    2.    Presentation of offer - It's fast and there's no obligation on your part. After all of information has been analyzed, you'll be presented with a written offer good for seven (7) days! Your offer-it's not just an estimate. It's not just an estimate. It's Heiser's actual offer of payment to you.

    3.    Complete the sale or think it over - whenever you're ready to walk away with a check from Heiser, we can complete the process quickly and have you on your way. Remember your offer is good for 7 days.
WHAT TO BRING WITH YOU TO THE DEALERSHIP

If you have any questions on what is needed, please contact Heiser before your visit. If you are missing any of the items below, we will still be able to guide you through the process and help make the arrangements you need to gather what's needed. Don't forget to contact Heiser Ford for an appointment to have your car appraised. Then, bring along:

    1.    Your car's title or payoff information - all titleholders should plan to be present to complete the sale. Our check will be made payable to the name listed on the vehicle's title.

    2.    Current registration - to confirm ownership.

    3.    Valid state-issued photo ID - for all titleholders.

    4.    All keys and remote(s) - if original keys/remotes are missing, it may result in your offer being adjusted.